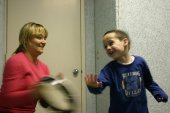 REGISTER FOR IMCAP-ND CMTE COURSE!
8/1 & 8/2 at Molloy College, Rockville Centre, NY
10/24 & 10/25, Radford University, VA
"The IMCAP-ND Music Therapy Assessment training provided by John Carpente was an experience that opened my eyes to a new way of seeing and interacting with my clients musically, as well as giving an invaluable framework from which to communicate music therapy's benefits for individuals with Neurological Disorders to administration, families, and staff. I find that I am relating to and understanding the needs of my clients on a much deeper level and that will greatly influence every facet of the therapeutic process with them in the future. This is an extremely valuable tool, and John presents it in such a way that is thorough, challenging, and creative! I highly recommend this training to any music therapy professional!"
–Julie Schlosser, MT-BC
"The IMCAP-ND course was career changing!!!!!! After15 years of a successful music therapy career it opened my eyes to a very positive child-centered way to communicate and assess –following the lead of the child. Coming from a school that uses  DIR/Floortime in the early intervention program, the IMCAP-ND method is a logical and well thought out process that marries music therapy and floortime. The assessment is ready to use and with practice will become the staple assessment process that I use in schools. Fantastic course! In short, the IMCAP-ND course was mind blowing! 
-Amy Gardiner, MT-BC
 I'm thrilled to announce that the IMCAP-ND CMTE Training is continuing to travel through the Mid-Atlantic Region, offering the Training in New York and Southwest Virginia. The New York IMCAP-ND CMTE training will take place  on August 1st & 2nd at Molloy College, Rockville Centre, NY. (thanks to all of the good folks from the music department of Molloy College and the clinical staff of The Rebecca Center for their continuos support!).  In addition, I'm excited to have the opportunity to offer the IMCAP-ND CMTE Training at Radford University, Radford, VA on October 24th & 25th. (A special thanks to music therapist, Noel Anderson for initiating the course, and to folks at Radford University's Music Therapy Department, Trish Winter and Jim Borling for offering to host the training).  
See this video of music therapist, Kerry Cornelius, MT-BC, speaking on her experience of attending and participating in the IMCAP-ND CMTE Course at Howard Comm. College in Columbia, MD.
Upcoming Training Dates & Locations:
August 1 & 2, Molloy College, NY and October 24 & 25, Radford University, VA
REGISTRATION IS NOW OPEN
DON'T MISS THE EARLY BIRD REGISTRATION DISCOUNT
Interested in expanding your knowledge on:
clinical assessment within a Developmental Relationship-based Music Therapy Model?
measuring relationship-based musical responses within the context of social-emotional development?
creating musical experiences specifically geared towards particular musical target responses?
formulating measurable music-centered goals grounded in social-emotinoal skills?
a systemic approach to developing treatment plans, as well as communicating clinical information to families of clients as well as healthcare practitioners?
Here's an opportunity to do all of that while EARNING 35 CMTE CREDITS! 
~Auditing at a discount rate is avilable
~Discounts for groups
~Scholarship opportunities are available
Register now for early bird discount!
Please feel free to post any questions or email us at info@DMHmusictherapy.com
Musically,
John