IMCAP-ND Certificate Course Level 1
Review by Music Therapist, Kerry Cornelius, MT-BC
"The IMCAP-ND Music Therapy Assessment training provided by John Carpente was an experience that opened my eyes to a new way of seeing and interacting with my clients musically, as well as giving an invaluable framework from which to communicate music therapy's benefits for individuals with Neurodevelopmental Disorders to administration, families, and staff. I find that I am relating to and understanding the needs of my clients on a much deeper level and that will greatly influence every facet of the therapeutic process with them in the future. This is an extremely valuable tool, and John presents it in such a way that is thorough, challenging, and creative! I highly recommend this training to any music therapy professional!"
       -Julie Schlosser, MT-BC
"The IMCAP-ND course was career changing!!!!!! After15 years of a successful music therapy career it opened my eyes to a very positive child-centered way to communicate and assess –following the lead of the child. Coming from a school that uses  DIR/Floortime in the early intervention program, the IMCAP-ND method is a logical and well thought out process that marries music therapy and floortime. The assessment is ready to use and with practice will become the staple assessment process that I use in schools. Fantastic course! In short, the IMCAP-ND course was mind blowing! 
-Amy Gardiner, MT-BC
The IMCAP-ND is a reliable developmental relationship-based clinical observation instrument that focuses on how clients perceive, interpret, and create music with the therapist as the first step in formulating clinical goals and strategies. In addition, the IMCAP-ND provides the therapist with a method for observing, listening, and rating musical: 1) social-emotional responses, 2) cognition/perception, and preferences, perceptual efficiency, and self-regulation.
To administer the IMCAP-ND, the therapist clinically improvises music to create relational opportunities for the client in play. Consistent with the DIRFloortime Model and relationship-based music-centered work, the IMCAP-ND is composed of three components:1 ) three developmentally-based quantitative scales, 2) guiding principles for conducting the in-session assessment, and 3) templates to formulate goals and treatment plans.
IMCAP-ND Certification Level I Course Schedule
DAY 1: 3.5 hours (not including breaks)
OVERVIEW OF IMCAP-ND
Welcome
ASD & Nuerodevelopmental Disorders
Psychometrics: Reliability & Validity
Foundations & origins
Neurodevelopmental disorders
Paradigm shift
Music as the domain of health
Overview of IMCAP-ND rating scales (I, II, & III)
Introducing Scale I: Musical Emotional Assessment Rating Scale constructs and video review
Introducing Scale I: Musical Cognitive Perception Scale constructs and video review
Introducing Scale I: Musical Responsiveness constructs and video review
DAY 2: 9am-5pm (not including 1 hour lunch break and two 20-minute breaks)
OUTLINE OF MT SESSIONS
Assessment protocols; clinical techniques
Procedural considerations
Musical & extra-musical considerations
Respecting the client's nervous system
 PROTOCOLS & PROCEDURES
Creating musical experecines to target assessment areas
Clinical techniques and procedural phases
Role play and experientials
 QUALITY OF MUSICAL-PLAY
Range of musical-play interactions
Identifying intentionality
Musical-relational vs. stimulus-response
TARGETING MUSICAL RESPONSES
Clinical techniques & musical protocals
Musical frameworks/themes
QUALITY OF MUSICAL-PLAY
Range and intent of musical-play interactions
Musical-relational vs. stimulus-response
DAY 3: 9am-5pm (not including 1 hour lunch break and two 20-minute breaks)
VALUE OF RATING SCORES
Scoring protocols
Frequency & support scales
Practice scoring Scales I, II, & III
Discussion, analysis & interpretation of scores (video review)
 WRITING & COMMUNICATING
Intake & setting up the IMCAP-ND assessment
Reviewing the IMCAP-ND goal bank
Integrating quantitive and qualititive outcomes
Crafting clinical goals
Report writing
Communicating IMCAP-ND data to families and professionals
IMCAP-ND LEVELS OF CERTIFICATION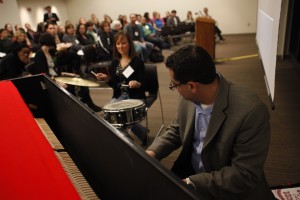 LEVEL I Certficate Training
The IMCAP-ND level 1 course will provide participants with practical knowledge of administering, scoring, and interpreting IMCAP-ND assessment data. In addition, participants will learn how to formulate and write clinical goals, treatment plans, and evaluation reports.
 LEVEL II Certificate Training
The IMCAP-ND level requires music therapists to participate in 6 coaching/supervision sessions. Sessions include: video review, 1:1 and group supervision, and completion of 2 entire IMCAP-ND assessments with reports. For more info contact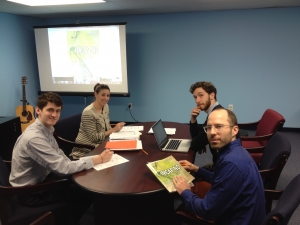 info@DMHmusictherapy.com
UPCOMING IMCAP-ND LEVEL I TRAININGS & Workshops
Oporto, Portugal: June 2-4, 2017 (For information email: imcap.portugal@gmail.com)
Ottawa, Canada, Ottawa Association Music Therapy: October 27-28, 2017
If you are interested in hosting an IMCAP-ND training near you, please email us at info@dmhmusictherapy.com