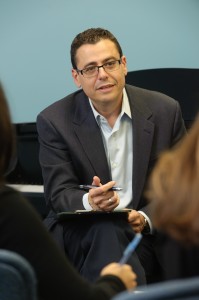 John A. Carpente, Ph.D., MT-BC, LCAT
Dr. John Carpente is an Associate Professor of Music Therapy at Molloy College, founder and executive director of the Rebecca Center for Music Therapy, and founding clinical director of the Center for Autism and Child Development at Molloy College. He is the owner of Developmental Music Health Services, LLC and founding music therapist and creator of the DIRFloortime-based music therapy program at the Rebecca School in New York City where he participated in weekly supervision and case conferences with Dr. Stanley I. Greenspan (co-creator of the DIRFloortime Model).
Dr. Carpente received his Master of Arts degree from the Steinhardt School of Education and Human Development at New York University where he also completed his advanced certification certification, Levels 1 and 2, in Nordoff-Robbins Music Therapy. He later went on to complete his doctoral degree from Temple University and soon after his achieved certification as an  Expert Trainer/Practitioner in the  DIRFloortime™ Model from the Interdisciplinary Council for Development and Learning (ICDL).
Dr. Carpente has over 20 years of clinical and supervisory experience working in a variety of settings as a clinician, clinical supervisor, and program director serving children, adolescents, adults and the elderly. A pioneer and leader in DIRFloortime-based music therapy, Dr. Carpente's clinical and research focus includes individuals with ASD and their families, parent coaching, assessment, and supervision. Dr. Carpente was the recipient of the Excellence in Music Therapy Research Award from Temple University for his innovative research and in 2012 was awarded with the esteemed Faculty Research Achievement Award from Molloy College, Rockville Centre, NY.
Dr. Carpente has authored several book chapters and articles on the topic of of music therapy and ASD. He recently authored the Individual Music-Centered Assessment Profile for Neurodevelopmental Disorders (IMCAP-ND): A Clinical Manual. He has presented his work internationally and domestically.