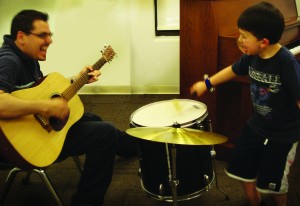 Music Therapy
Developmental Music Health provides music therapy services for the Long Island and New York City areas. Services are provided at our on-site clinic and are provided by fully credentialed board certified and licensed therapists.
Assessment
We provide a comprehensive and in-depth music therapy evaluation aimed at assessing areas of attention, engagement, communication, problem-solving, and social skills e.g., joint attention,  gestural cuing, initiating interaction. Parents or caregivers will receive a comprehensive assessment report followed by a meeting to review treatment plan, recommendations, and goals areas. To learn more about our assessment click here.
Music Therapy Sessions
Individual music therapy sessions involve interactive music making that target areas such as engagement, interaction, communication, and social-emotional development. To learn more about our music therapy approach click here.